In the following article, I am going to share with you my PROVEN system for coming up with an online advertising campaign in the industrial parts/supplies space in order to make virtually any kind of money in a similar space, according to your needs.
If you actually sell a part, a machine, or a DEVICE to an industrial or other commercial-based company that needs the equipment that you sell on a regular basis, then stay tuned.
I will show you how, through the power of paid-advertising campaigns on Google and Bing, to make millions of dollars using the same process I have in the industrial parts space.

You will be able to see the results of our previous campaigns that sold industrial equipment with the Google Ads platform in the CNC machines space. This article covers how to achieve your goals LIKE THIS for your company.
Using this online-advertising system that I have developed for marketing the industrial/commercial supplies space, I am going to share with you how to sell more of the product that you have on hand.
This campaign process can generate almost overnight revenue for your own company in the same general space as I have on more than a few occasions.
This same system can be used to set up a campaign like this completely from scratch no matter what stage you are at, as we did in the examples in this article.
In terms of examples of products that this will work for, I have seen this exact strategy work well in the past to sell millions in inventory for many companies in this category. Other industrial/commercial parts suppliers have done business in this area to make this kind of money already, INCLUDING the following:
✔ Motors for industrial equipment that are in high demand.
✔ PLC or other controllers are common to keep production lines going on at most companies.
✔ Belts, hoses, hydraulic equipment, mills, production equipment, conveyors, or even boxes or other supplies that need to be installed in growing companies on a regular basis.
✔ Anything that can be sold to a machine shops manager, warehouses, factories, or distribution centers, using these same exact campaigns to make millions of dollars a year on a regular basis, I am about to show you in this article. I have had the pleasure of working on and producing the results mentioned in this article, proving it can work for most of the above markets and more.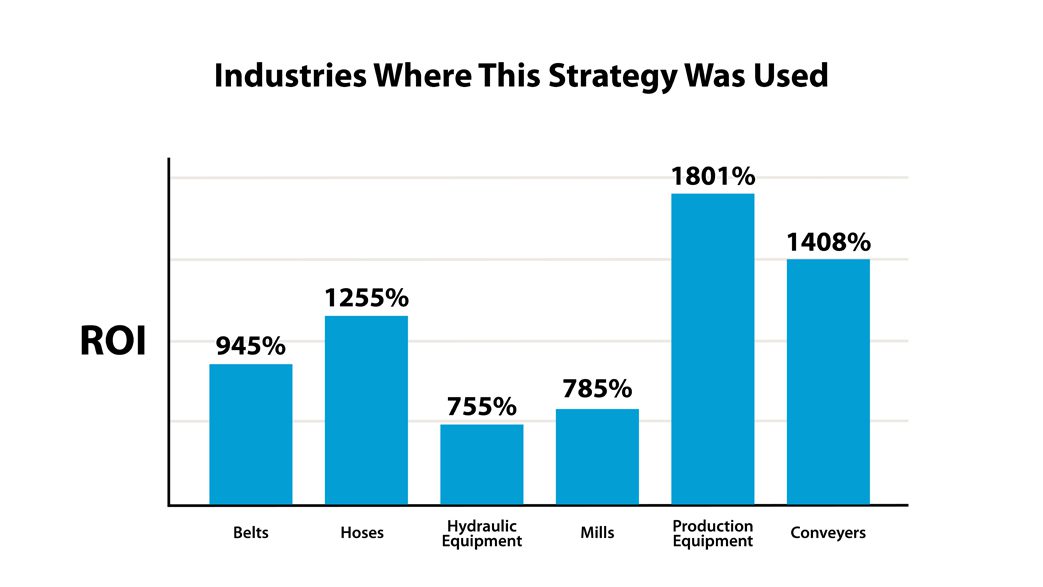 If you were looking for a ready-made campaign that has been battle tested by an experienced ad manager without having to waste many thousands of dollars to figure out how it works, then you've come to the right place.
I created, tested, and have proven this system to sell millions of dollars of parts in not just the CNC machines space, but with many other companies in this same exact category. These same strategies you are about to see are all represented in the following case study.
Stay tuned.
Case Study:
Spending 14.5K to generate over 615K+ in revenue using Google + Bing search ads in combination.
In the following case study, I'm going to walk you through the key steps I had to employ to obtain the following results.
I am going to show you how you can replicate the results in this case study for your own campaigns to generate the same kind of 40:1 or greater returns on your ad spend for the industrial parts seller for your own company from scratch.
The following steps laid out to you in this article can achieve these goals, given you actually follow them and can follow for anyone who is in this same space.
The Client
This case study and its subject matter sells machine shop equipment, CNCs, milling machines, lathes, etc., to machine shops on both a national and international basis.
For this case study, the goal of putting together a search-marketing campaign on Google and Bing was to make a process to create as many "request for quotes" (RFQ for short) through their campaigns in a profitable way.
With an initial goal in place, our company was able to begin to scale up the amount of quotes leading to millions of dollars for their company.
Goals
Our goal was to work with the CNC seller at the core of this article and to know exactly what a typical RFQ is worth to their organization.
Our agency was now setup and created an ad strategy for the company to put their company in position to scale their results for their particular sales outlet.
For most of the businesses starting out on your own campaigns, a similar set of goals should be set up before you start out for your own company.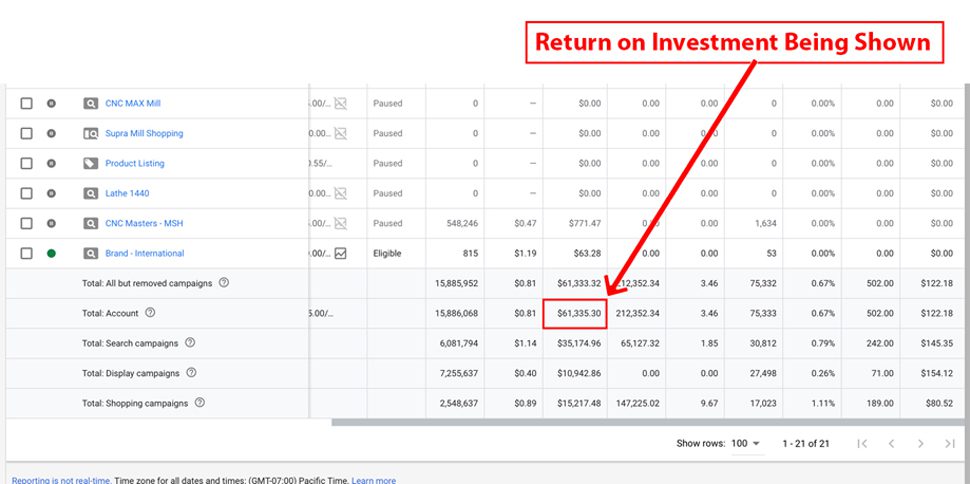 Also, with this subject in question, it becomes very easy to scale things up since we know exactly where things are already working like the following example.
The Campaign
Once you definitively know what you need out of these campaigns at the end of the day, the next step for us to build a campaign that works and make millions of dollars selling the products we already have in stock is to find a set of places where we can acquire customers at or below this rate in our own parts market within the parameters we just found.
Unlike myself that had to figure all of this out on my own,
I am able to tell you exactly where those places are that you will (at least at a starting point) be able to get your first 1M+ a year for your own parts business through your campaigns just by following the steps I already used in several markets.
To start.
Search campaign strategy #1
One of the ways I have been able to consistently make money in a business such as yours in the industrial/commercial space (that works in just about any of the places I have ever tried) exists with creating ads for people who are looking for certain applications that a product like yours can solve in your market, given to you as an example from the CNC market below:
Users looking for end solutions to their problems should be recommended to check out the exact products that can fix those problems in every applicable case where no one else will have their ads.
People searching for the specific category of products to you are sold "benchtop" or "wood."
Running product campaigns like this requires that you are covering and featuring your products every place where a user needs to find a unique solution.
This is one way to ensure you at least have a shot at every applicable sales conversation in your market, which will greatly increase your number of sales opportunities achieved by putting those opportunities together for yourself in your market accordingly.
Search campaign strategy #2
Here is another way that you can add to generate millions of dollars on an industrial/commercial parts campaign like this in your market.
This strategy is to create ads for those who are looking for very specific products within the general category of items that you sell.
But also, it requires listing the exact description and features they need (not just the products themselves) and sending those users directly to the page of your site that offers exactly what they want as well (example seen below).
People searching for certain categories of machines that you sell "Bridgeport" "five axis," sending them on to the exact part of your site that lists those products for them.
The above example maps out for the following client we had gotten the very high, tremendous success shown to you in this case study would be in the shipping supplies space, focusing not only the features your customers want, but also the size of the items they are looking for.
No one else is using this method there, so you can see how this is supposed to work (seen below).
For those who don't already know how all of their customers are searching for them in their markets, a simple search in customer forms and reviews in their market can give you more than a few ideas of how to set these ads up in your market. This way, if you couldn't have already, simply communicate with your sales department to get this data.
For myself, generally working for clients when I am setting up these types of campaigns, I can do so even with no prior product knowledge in the market I am in.
Generally, I am able to find out all the features of products that my clients' customers want to see just by spending a couple hours in that market, reading reviews such as product forums (like what is shown below) and finding micro trends in what people are looking for and can't otherwise find items for in that market (shown below):
With the above examples, I have shown you should put into reference the pure kind of detail you will need with running ads.
The mere fact that these ads take so much time to put together ensures if you are the one that will spend the time to set up hundreds (if not thousand) of ads just like these in your own market, you will have set up a high barrier to entry in your own market.
For those who do not want to set up ads with this high level of strategy within their own market, you are easily leaving yourself open to someone who does. This strategy is available to anyone that has the motivation to put in the time to employ this very profitable strategy before you in your own market.
Search campaign strategy #3
The final strategy that will surely help pick up a lot of extra sales in your market has to do with setting up ads that focus on simply redirecting users who are interested in the "type" of product you sell, but have not been made aware of your particular product line yet, and cross-comparing those competitors' products and features with your own.
Specifically by means of your ads shown below:
Example of how to market an industrial or commercial piece or part that actually sells.
While I admit this last strategy takes a miserably long time to set up these ads (as with the rest of the strategies), I have listed for you how to get results like we have laid out here in this case study.
We can simply start out to set up ads to focus on cross-comparing our line of products to one single competitor that we have.
Once we have run a test (as we have done here), only run one set of ads that will work for our brand and exactly what type of return that will create.
The thought of spending dozens of hours researching how to set up all these ads at this particular level of detail shall be a little more palatable for our business at the end of the day.
Demographics targeting
As far as the targeting of your ad campaign that is going to attract the "right" people to your site on a regular basis, choosing the right keywords and basis to find the users who are looking to make a buck and correctly finding and attracting such a customer is only half of the battle.
The other half of what you must know about making money with these campaigns exists with filtering out the types of people or traits these people you have found to find the subtrends in your own market that work better than most, so you can exclusively focus on them.
We can greatly leverage our ability to generate profit by running ads for any product in any market by looking into how well each part of our campaigns are producing.
Just by knowing what types of markets work better for you and work better than most, you can also gauge the age and time of day your best customers in your market are searching for you.
Given, we can make any ads work 2-3x better just by using what Google and Bing give us to filter down our ads.
An example of which is shown below:
This same process to multiply our results just by using the free data that is already available to us in our account extends to the list of locations our customers are that we are targeting, so we can modify what we are willing to pay by state and region.
We can also adjust the targeting and amount we are willing to spend on all of these other factors/dimensions to get more out of it as well:
Locations
Cities
States
Regions
Countries
Age, Parental Status, Gender, and more!
To begin, filter out your campaign in your own campaign's markets that do not work like this and use your internal companies' data this way from the campaigns you set up earlier like we actually have in the following case study.
We use a bid-modification formula to tell us what we should focus on spending for each market, doing either more or less than the rest, and simply let the data tell us which of the many markets we can potentially be in and which markets we really want to be in (as shown below).
 Bids Leveraged/Adjusted on ROI Of Each Location
These kinds of bid modifications are possible to be made in our account, and as I have just shown, you can make a whole lot of money by knowing about your competitors that are competing for the same ad space.
The main benefit we get from this process is to filter out what customers simply are not profitable to market to so we can weed those customers out and leverage up what is working the most for our brand over time.
An example of us doing it on this campaign is shown below :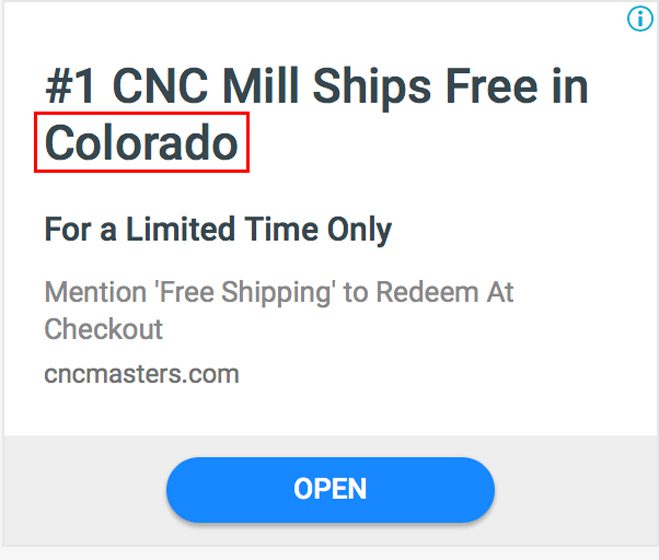 In the following case, a promotion to better leverage the Colorado market to leverage higher CNC sales in this market above.
Landing Pages
As a general note of these search campaigns and remarketing ad strategies that are mentioned in this article.
The other key to your success in order to reach your company's initial point of profitably with your company's test campaigns is to try to focus on not only where your customers ARE, but what you are actually going to show them when they get there to make the most out of your ads and see these same kind of returns on your own campaigns.
For most of you reading this, and like the example I have shown to you in this case study, there are 3 main places/ways we can send users who initially raise their hands to look at our products and ways we can find out, as a seller of a product to the industrial or commercial markets, each and every type of visitor we pay to get to our site.
Which are:
✔ A product page
✔ A category of your site
✔ A search results page of your site
Out of these 3 available options that most companies in our category have to decide where to send people with their campaigns, search result pages are by far what I generally focus on when creating all my ads for the clients that I represent in this category of selling a product to a commercial or industrial buyer in a market.
Landing page used for searching for "Birmingham Lates Products," stemming from the search results page.
Also, it is beneficial to have a custom headline each time you send users to your page like this, and according to the data I have collected on a previous basis, to instantly communicate what the user is going to find on the page we take them to.
By my personal experience, you can ROUTINELY expect at least 50% more quotes on the same amount of traffic you could get for your site that you will want to eventually add on all of your campaigns and have to do nothing more but put a custom heading on each one of the landing pages each time we take users to our site.
Custom Remarketing Component
We can use this information we have gotten about each user who came to our site by having such convincing information on our site and knowing so much about our prospects actually coming to our site.
I always like to make the most of every dollar that is spent on your ads by following up on each one of our users with a custom-tailored message for each person that goes to our site to show each user that we actually are the right solution and rehashes all the reasons why they should buy so we don't have to risk seeing them go anywhere after we have already paid to have them come to our site.
By finding the top 3-5 reasons why any particular buyer likes this and setting up a system to work in our ads to follow up on users who leave your site, as I have shown you on our example above, we can wind up with as much as twice as many customers in our market. They should be thoroughly sold on all the reasons they want and should do business with you, so they do not forget and so that every visitor that is attracted to our site is capitalized on to the fullest extent possible at the end of the day.
Wrapping It Up
For those who set up their ad campaigns from start to finish the way I just showed you, which should be set up with every ad that you ultimately run and full process I have given you above:
1. To first identify the problem the users have.
2. Then, show the user how you can solve their specific problem.
3. Then, finally, follow up with them based upon what you identified they wanted until you close the purchase.
When this is done the all the way through to the level of detail I just showed you, you should have the ability and assets of people coming to you ready to buy your product far more than anyone else that is advertising alongside you on a regular basis and seeing at least a 40:1 return on your campaign, long-term.
Whereas it takes time to set up good-quality campaigns to send the right people to the right places on your site to reach the high level of detail on the campaigns I just showed you, mostly use single keywords with single ads on a 1:1 basis so that you can consistently send users to the exact right page on your site (which I showed you that we had ultimately used when we set up all the ads for the following company on this particular case study).
You should be able to ultimately go on at the end of the day and can build up a very large strategy producing a 7 figure campaign completely from scratch over time for yourself, as you now have everything that is truly required to set it all up, including the time and the gross amount of effort to set it up like we did here.
Campaign summary and results
After building a similar set of search and remarketing campaigns for the industrial parts seller in the above case study, I reviewed the results we have gotten with those campaigns and listed them below.
As for the 3 separate search-advertising campaigns I have listed above:
Strategy 1. Targeting product-related "applications"
Strategy 2. Targeting product features/types by category
Strategy 3. Targeting competitor terms
We were able to receive the following results on the campaign I have displayed below after we had initially scaled up our campaign with the following results, just by following all of these exact sequence of events within the first 12-24 months of setting up the strategies for the following company listed in this case study.
Out of the 3 types of campaigns we ran here, here are the following results we got on our campaigns.
You can see the exact results we obtained from each of the individual ones I have shown you below:
Distribution of Return
Closing rate, deal size, etc.
As for the true outcome of the profitability of the campaign, here's how the numbers turned out for this campaign once the initial results came in, so you can see how profitable this can be for yourself.
Here are those numbers from the first month we started the campaign:
Q3 2017 – (Google Only)
Ad spend = $1,978 (as seen from the screenshot above).
5 RFQ's x 20% close rate = 1 deals.
1 deals x $14,500 (avg. deal size) = $14,500 generated.                                              _________________________________________
Gross ROI = [$14,500 – $1,978] / $1,878 x 100% = 733%.
And here are those numbers from the LAST month we started the campaign to show you the progress of these strategies on this particular company's account:
Q3 2019 – (Google & Bing Ads Together)
Ad spend = $14,257 (as seen from the screenshot above).
187 RFQ's x 20% close rate = 37 deals.
27 deals x $16,645 (avg. deal size) = $615,865 generated.                                          ____________________________________________
Gross ROI = [$615,865 – $14,257] / $14,257 x 100% = 4320%.
As a whole with this campaign, we were able to get a 4320% return, and furthermore a $104,697 profit, from those campaigns during the last 3 months, which is actually more than 100x what they initially put into these campaigns starting out 2 years earlier to reach this level of profit using the following strategies shown in their campaigns. 
As you can see, starting from a small account spending nearly $1000 a month, you can quickly scale this to 5 figures in sales just from the returns you get from your small investment starting out a month just by being diligent when setting up your campaigns the right way from the start like the way I did here.
While I will admit it will take a lot of thought, effort, planning, and preparation to set up these ads the same way for your own market, it will work and should keep on working for years and years once everything is set up, as you can build such a large campaign with such a small amount of money starting out.
Campaign Recap
Here's a quick recap about what made this campaign work as a summary and why everything I have shown you in this case study has worked as well as it should on your own campaigns' and why they will be important when you set them up on your own campaigns:
✔ Point 1– Good simply is not "Good Enough" when targeting your campaigns to find real buyers who want to buy your products with your ads at the end of the day.
Getting a better-than-average return on Google in such a competitive market takes going the extra mile and actually taking the time to be a good steward of your market, meaning you must be better than anyone else in your market to get better than average returns out of your campaigns.
✔ Point 2– What you show to users once they reach your site is just as, or even more, important as finding a buyer to sell to in the first place.
Whereas the search ad techniques I have given you to create good ads/offers in your own market starting out can often make a lot of money on their own, prospects are not targeted well enough, or furthermore not followed up in a sufficient enough way (which this level of detailed targeting enables), making it far easier to make money with your campaigns.
Not only do the users that you are bringing to the pre-selected landing pages on your site need to tell your users exactly what they need to know and hear to make a purchase from you to get great results on your campaigns over time, that message has to be repeated enough for those same users to know, remember, and trust it to also make sure they remember it enough to act on it over a several month period that they are considering a purchase and who to buy from in your market.
✔ Point 3– Not tracking your campaigns results enough to serve as a basis to fully guide your investment will leave you with much less total return than what you could have had if you tracked your campaigns all the way through to see what a quote from your company is worth at the end of the day.
While we can usually get some decent results by simply "guessing" we are doing a good job with our ads, at the end of the day it is important to know if we want to keep running them like most of our competitors will.
For the most part, the majority of the profit that is available to be made in our market comes through steady testing and constant adjustments to our bidding to work on leveraging your account to a 5 figure account over time.
Once you initially have set up a successful campaign, the fine tuning of our ads that come after the initial work is done when you start out at a small amount of ad spend over time.
While you certainly don't have to expect to lose money when starting out the process of running ads, you can't also expect to make the big money until you figured out what works for you and the products you sell in your market first, just like anyone else who doesn't start out with deep pockets starts out when running their ads.