In this article, you will learn about using paid ads to make your business's content go viral, generating a boat-load of sales for your business in the process and in less time than you can probably imagine.
If you did not already realize, you can generate leads far cheaper than traditional marketing methods (try pennies each), even after factoring in any content-related production costs using viral content marketing!
While going viral with your content may be hard without an already existing following (this part is true), you can easily avoid this shortfall by setting up the proper smoke and mirrors show for your influencers to look like a brand without actually being one and to get your content shared like you are that brand, until you actually become one!
How Would You Like These Kind of Results?
If you would like for me to set you up with a free campaign that gets your content to go viral too, then you can request that from me here
So what does it really take to make your smaller company's branded content go viral and get these leads for just pennies each?
After doing a great deal of research on this subject in the past so as to be able to replicate it myself, I have found that viral content generally has three signature elements that have to happen in succession:
First, unique/engaging content has to be "discovered" by being in the right place (and maybe the right time).
Next, that content has to get mentioned/commented on by smaller fish in your vertical (mimicking the herd mentality).
Finally, a niche-related influencer will see it and "vampire" off any niche-related exposure they can leach off of it.
So to make YOUR content go viral, you will need to recreate these elemental factors by (in this order):
#1 – Creating content you know your audience actually wants by doing your research.
#2 – Making that content look popular with the right placement so it gets shared/commented on a few times by your average Joe or Jane.
#3 – Ultimately getting it into your niche's key influencers' hands.
Part 2 and Part 3 are exclusively the job of your PPC campaigns, as I will show you later.
You can see a similar process going down using SEO by visiting the site of my friend, Matt Woodward. While it still does take a bit of luck to go viral, it's easy to increase your chances if you know what you're doing.
But I Don't Think Simple Shared Content Will Really Generate Leads …
If this is really true, then why do big brands do it?
How about any of the successful consultants you can find doing this same thing day in and out?
I can tell you from my own content shares on high-profile websites such as Kiss metrics and Marketing Profs that sharing content really works to generate paid customers:
MarketingProfs: http://www.marketingprofs.com/authors/3018/corey-zeimen
Kissmetrics: https://blog.kissmetrics.com/increase-your-adwords-roi-with-these-5-tips/
Good pieces of a content like these may only get a .1-1 percent "read to lead rate" (much more for giveaways) but do generate dozens of leads when shared by the right person or finally getting the right kind of placement you are looking for.
Going Viral Can Be a Very Repeatable Process
Every time I want to go viral now, I know all I have to do is figure out what to share and then use my knowledge of ad targeting to get it to who it needs to go.
To give you an example of how this works in practicality, see below for a campaign I recently ran for a restoration franchise client.
Plumbing Case Study
While I used LinkedIn sponsored stories on this one …
That was literally all it took, considering how relevant that content really was.
But Using Pay Per Click Ads To Share Related Teaser Content Isn't A Secret
That's right, I am not the only one giving stuff away using native ads and making a killing …
Native ad networks are a multi-billion dollar industry and are built on this exact process, as you will see browsing a few of the ads out there if you have never seen them before:
 Click Bait Ad
 Then Build Up the Value
 And Offer Something To Create A Lead
There are many great sponsored content examples that I have seen work well from personal experience and that you can get some ideas from, regardless of what business you are in:
 Samples
Free Seminars
Offers of Money or a Return of Some Sort
Offers of Free Advice
 Packaged Content (Better Be Good and Highly Relevant)
 Infographics
How Much Is "'Too Much"' When Deciding What To Offer Your Future Prospects?
To give you an idea of just how much you can actually spend to give something away to gain your prospective audience's attention and still make money (yes, this always seems odd at first), I have seen many safely spend upward of $50 per prospect on freebees, food, content, or other goodies per prospect to start generating high-quality leads and still make a profit, if you consider the lifetime value of each and every one of those leads and as long as you are really reeling in people who you know are qualified to do business within the first place.
$50 in Free Stuff per Person? Really?
Here is one example of an architect who paid more than this to attract people to a free conference about Victorian home design.
Fast forward to 38:00
As you can see, leads are flying in for her and has completely changed her business, so that $50 per prospect input cost is now mere pocket change to her now …
Whether you decide to give away free stuff or free information, I have also found that as long as you stay around the $50 mark to acquire an interested prospect who will eventually spend four figures with you, you almost always will make lots of money with one of these promotions.
Put more of your money into developing the right content than into ads to get it exposed.
Look at your competitors' content or content that gets shared in your industry in trade-related groups to see just what caliber of content it really takes to make content shared from non-authorities go viral. Once you have it, do not stop short in replicating this same type or quality of offer for your business, so you can focus on tweaking your campaign once it is running instead of tweaking the offer itself to make it work.
After running your first campaign, you can easily tip a campaign from the edge of profitability into a highly profitable one just by looking at your campaigns' data and tweaking a thing or two.
Cost Per Lead Before
Cost Per Lead After
Revenue Per Lead Results
Good content will always get a good return eventually, so focus on the quality of your content and the rest will always fall into place.
Building a PPC Campaign to Promote Your Content
Targeting Your Buyers
You actually have a few different targeting options to choose from when setting up your campaigns, which will vary depending on how difficult it is to target your desired audience.
As a rule of thumb, the more specific (or smaller) the audience you are targeting, the less likely it is that you can target using Facebook's default targeting options to find success with your campaign —
— and the more likely you will need to use pixel-related targeting and look alike audiences to make the campaign really work.
 Pixel-Related Targeting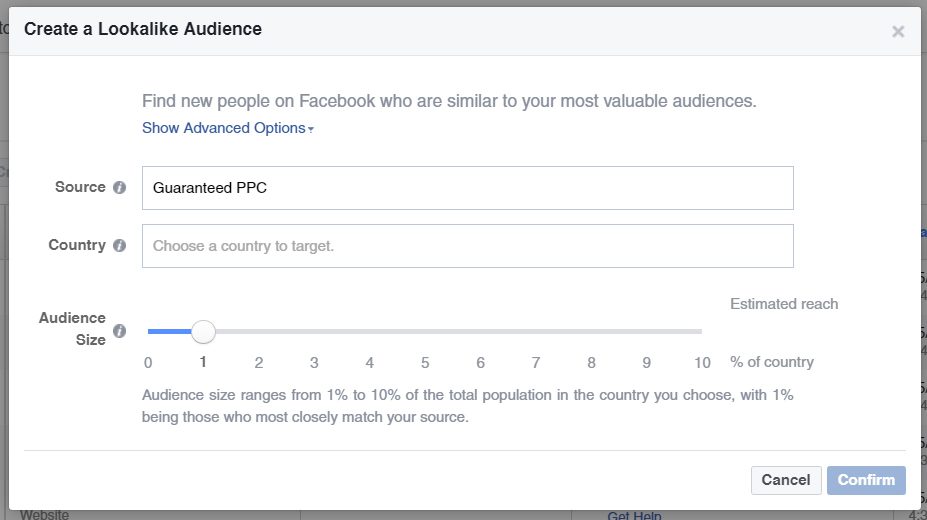 Look a like Audiences
If you do have a list of emails or phone numbers to start out with that you can broker off of someone else, you can upload these lists to Facebook or Twitter directly. This is by far my preferred way to get my content kick-started.
Upload E-mails Or Phone Numbers You Acquired Through A 3rd Third Party That Has These Lists
Or find a site where ONLY your target market will visit, and get an ad there by defining your ad target placements to just a handful of sites …
Or Build The List Of Plumbers By Scratch Using Ads On on Targeted Sites
Ad Copy
With your ad targeting figured out, you now need to figure out HOW to get these peoples people's attentions with a very outstanding- looking add….
By default, if you are using stock images, you lose before you start. Don't do that.
Stock images are what everyone else uses, and people completely ignore these, giving you a poor CTR and a high CPC rate.
Stock Images Do Not Drive Cheap Leads, They Do Not Catch the Eye on Scroll
Custom Photography, While More Expensive, Kills It Every Time vs. the Alternative
Second, sell the end result of the offer you are presenting to your audience when developing your ad copy, do not sell them the benefits in the ad itself.
Nobody cares about the eBook or conference you are promoting; everyone cares about the money they're going to make by reading and actually using that information.
Source: HubShout
Who Cares About White Label SEO?
Okay, Now I Am Interested …
Channels
Focus on promoting your giveaways by using news feed ads, namely Facebook or LinkedIn, as these are the easiest for people to share on their own and instrumental in creating a controlled environment to make your content look popular.
Facebook Comments Make Anything Look Wildly Popular!
 Same With LinkedIn
As your ad circulates and gains interaction, your ads will become more appealing to share as you go, which is exactly what you are after.
Building on Your Response
One of the great things about Facebook or LinkedIn's "ghost" news feed ads is the ability for audience members to comment on these ads like any other normal non-commercialized share on Facebook.
Once someone does comment on your ad (and you should keep checking regularly until someone does)
— you can respond to that comment right away to encourage other people to comment and engage. This makes your content look as popular as possible and eventually makes it go viral.
By actively engaging with the commenters, you will also easily double the likelihood that ad gets shared on your audience members' timelines, as there is a direct correlation to commenting and sharing, which as I have experienced.
Tracking Your Results
Now that your ad is running and getting shared as you continue to push that ad for a while yourself, you can monitor your results, namely traffic, leads, and if you want, ROI level reporting.
One of the ways you can do this (and by far the simplest) is to add UTM tracking codes to each one of your destination URLs you are promoting on Facebook or LinkedIn to see your results in your Google Analytics installation.
Easily Track Your Organic Shares From Paid Ads and Your Return
To track calls if most responses are going to come in by phone, use a call tracking provider like Call Tracking Metrics to port in a conversion to your Google Analytics account every time
Source: Call Tracking Metrics
Calls Being Tracked By by Source
To derive a ROI on your campaign, simply check your CRM after tagging your links and count up all your sales as a percentage of your ad spend.
Sales force and Zoho make this easy to do, but it's possible to do with any CRM out there, one way or another.
At the end of the day, you want to back your investment out to a "revenue per click" of the content you have built, so you can promote this same content you paid so much to produce in other ways, knowing your limits of doing so.