This article is about native advertising, promoting products and services within embedded content as to seem more like news than advertising. In this article, instead of covering the typical native advertising networks on social media, such as Facebook or LinkedIn, we are specifically focusing on the native ads that offer "similar content" and can likely work much better for you than the mainstream networks already are.
If you just want to see how your competition are running native ads and making money already, I have this listed how you can up on them here
What Is This Similar Content Model and How Does It Work?
If you are unfamiliar with how advertisers are using content ads on Taboola, Outbrain, or Adblade to make money, simply refer to the sales funnel sequence I scraped off this Digital Journal article to see how this process works in a nutshell: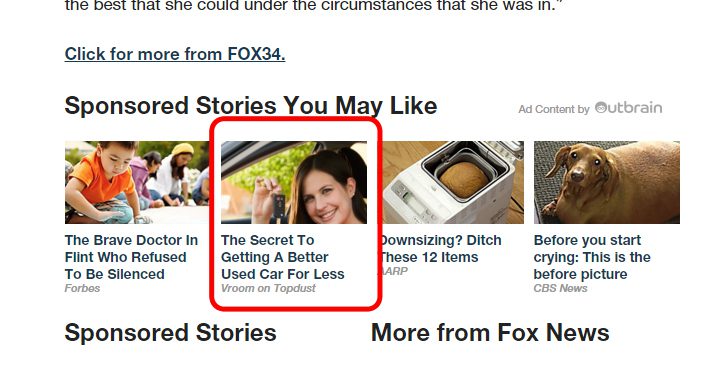 Example Native Content Ad
Source: Content Ad
Example Landing Page From Native Ad
Example Money Page
As you can see, readers are pulled off the news site they were pitched on to visit other "similar content" on sites the advertiser controls, in an attempt to sell them something in a non-objective way.
Why Big Time Advertisers in Many Mainstream Verticals Love Native Advertising
Native ads are a favorite tool for many marketers because the advertiser borrows the reputation of the publication in which the ad originates to sell their products and services. The line of thinking for the consumer is, if the product did or could not really work, then the publisher would not allow the ad to be published in the first place, right? The average person knows nothing about how Outbrain or Taboola ads work or even that they are clicking on an ad that will capitalize on this fact, especially when you consider how blended these ads are now getting on many news sites …
Native Ad Links Can Look Exactly Like Internal Links
Source: Outbrain
There are also several other primary reasons why billions of advertising dollars keep pouring into the content driven native advertising industry:
There are far fewer restrictions for advertising with native ads networks than there is advertising on the big three networks (Google, Bing, and Facebook).
Native advertising has a 53 percent higher purchase intent than traditional banner ad clicks.
The cost of content based native advertising is as much as 50-100 percent cheaper on a cost per click basis than mainstream display banner ads, according to my own experiments.
Native Ad Clicks Are Pretty Cheap: $.20-$.30 Cents on Prime Networks
Proof That This Works in Your Niche
If you can spot another competitor or affiliate marketer already using a similar native advertising strategy in your market space, you will have no trouble at all implementing a successful native ad campaign for your business.
I recommend using my favorite native ad spy tool to pick up on what your competitors are doing to get a head start on your campaign.
Native Ads Spy Tools:
Advault
Search for Competitors by Keyword
Find What Is Being Advertised
See How Many Times It's Being Seen to Determine Effectiveness
See What Landing Pages They Are Using
Find Out What Sites They Are Running Their Ads On
Find Out Which Networks They Are Advertising On
The Anatomy of a Successful Native Ad Sales Funnel
Any highly successful native ad campaign usually has all the following core components:
A good ad
A good pre-landing page
A good landing page
A mass marketed product or service and strong post-sale business plan
Good conversion tracking
Ad Copy
Your job as the ad copywriter is to get your target audience to click through your ad to read your pre-lander article content in whatever means necessary.
If you sold diet products, for example, you would need to come up with an ad that attracts as many people as possible who are interested in dieting products to read your article.
Example Diet Ad 1
Example Diet Ad 2
Keep in mind when writing your ad copy that you are not in the product or services business, you are in the problem-solving business. Focus on using imagery and text that revolves around solving the problem the prospect has first and foremost, and using natural language, let the article drive them to buy the actual product at hand.
Pre-lander
For your article pre-lander to work, the site you send them to must seem completely organic to the user upon landing there.
What Type of Lander You Do Not Want
What Type of Lander You Do Want
You can literally host your pre-lander anywhere on the web besides your own domain to ensure it seems non-objective.
Pre-Lander Hosting Option #1
Pay Someone to Host an Article
Yes, you very well can find a small-time news site and just pay them to host an article for you with your preferred sales copy on it, there are plenty out there. For $1000, you can pretty much get on any small to mid-range site you want just by e-mailing the owner.
How to Pitch a Lander to a Legit Publication
Pre-Lander Hosting Option #2
Make Your Own News Site
If you have tested this for yourself and are confident with it, you can make your own news site using a template from http://themeforest.com and pay a virtual assistant to syndicate content from other news sources on a daily basis to keep that site active and ready for pre-lander articles on any campaign you would like to run.
Or Use a Template and Make Your Own Publication
Pre-lander Copy
Now that you have your consumer's attention, it's time to tell that user exactly what they want to hear.
In a third-party, non-objective voice, review the product or service you are selling by pointing to other third party informational sites that verify the product you are reviewing works, like any other reporter would.
"The product we're talking about is called Uber Trim. You may have seen it in the news, on TV, or trending online as the safe and powerful 'secret diet trick' being used by models, celebrities, and regular folk all across America. Uber Trim's high antioxidant content and powerful fat burning properties make it a belly busting machine. Improve your body even more by detoxifying it of everything bad with the use of Uber Ignite. Perhaps the most important part is that Uber Trim is finally available nationwide WITHOUT a prescription."
And:
"According to a prominent celebrity doctor, the product works in more ways than one. The first way is that it goes in and causes the body to burn glucose (sugar) and burn fat, mainly in the liver (* Study).
Testimonials
One way your content will convince your audience your product works is to use testimonials. Quote people who have used this product before and use before and after imagery to enforce your point for your audience.
Use Real-Looking Testimonial Images
At the bottom of your article, link to your sales page to get users to come to your website and purchase from you.
At the End of Your Article, Present a Call to Action
Typical Click Through Rates to Expect on Your Lander
Landing Page
If you did a good job warming up your traffic with your article content, your lander should be most effective in a short form (not text heavy). Most importantly, how to buy the product or service should be clearly apparent and accompanied by rich graphics, trust symbols, reviews, and other things you would normally see on someone's product page.
Example Money Site Lander That Works
Example Conversion Rate on Money Site Lander for Free Trial With Credit Card
AutoBill / Upsell Sequence / Long-Term Monetization Plan
Most of the people who are using native ads to make money online are following one of three different business product strategies:
Selling very high ticket items.
Selling something with a very high lifetime value, low barrier to entry, and normally on a monthly rebill system.
Selling something that wears out, breaks, or needs to be repurchased many times over in a very short period of time.
I can't recommend native ads if you do not fit in one of these three categories.
So Where Can I Run Native Ads?
Whereas all content based native ads by nature are live on content sites, there are two main classes of native advertising networks that advertise on two different classes of publishing sites.
Top Tier Networks
Standards
While these networks are very strict on the type of products and services that can be advertised, as well as the type of pre-lander sites you use with it, rest assured that you are getting exactly what you are paying for here and that the ads will be trusted at a higher level overall.
Quality
When advertising on these sites, you can expect to be found on top tier news sites such as http://foxnews.com, http://cnn.com, and other similar quality sites that have the highest level of trust possible transferred to your offer.
Because the barrier to entry is high, you can also expect your ads to be placed next to other, more seemingly legitimate offers that generate better quality as a result.
Volume
The minimum you need to even advertise with these networks is around $5,000 per month and is only really recommended if you have five figures per month to throw at a campaign from the beginning. With the high volume of leads you can generate, unless you already have a fulfillment center or call center set up to handle the lead flow, I do not recommend starting on these networks first and would instead go for the second tier networks listed below.
Second Tier Networks
While these advertisers do still have varying, and sometimes what you would consider somewhat stringent, policies on what you can advertise, they are far more lenient than the top tier networks listed above.
Standards
While these networks will not let you generally advertise blatant scams, they will indeed accept mostly any type of product, including hair regrowth products, diet products, supplements, and such.
These sites will generally still also want you to comply with FTC standards by labeling your pre-landers as advertising and using privacy policies on your pages.
An example site where these ads would show would be http://digitaljournal.com.
Example Ads Posted From 2nd Tier Network
Quality
Because the standards at these networks are pretty loose, you can expect your ads to be sitting alongside some pretty cheesy offers as a result and will be clicked often by what you could call a more "optimistic" crowd that will be harder to convert into paid signups.
Volume
Adblade alone can push a great deal of volume, so I would start there if you know you want to get serious with a campaign right away; no minimums on spend are required with them.
These other smaller networks, while also offering no minimums in ad spend, will have much less ad inventory but are very inexpensive to run.
Narrowing Down What Works
Like any other PPC campaign to improve performance over time, break out of all your demographics as much as possible so you can focus on what works and eliminate what does not quickly.
For instance, if you are running a multinational campaign, you will want to segment out your traffic by country since they will all behave a little differently, as well as segment out your campaign by day of the week, to name just a couple important dimensions to focus on.
Easy to Make a Break-Even Campaign Profitable by Setting Bids on the Various Dimensions
Conversion Costs Vary A Lot Depending on Placement as Well as Location
By starting off with advertising native ads, your campaign will be about 80 percent more efficient than what you started with, just six months into running your campaign.
Results
Comparing the networks together side by side, you can see the results vary by network for a physical supplement product I was promoting with the advertising programs listed above:
As you can see, it is worth your time to test the different networks out to maximize the profitability of your native ad PPC campaigns.
Summary
Like any other display advertising online, it's fairly expensive to put together a working funnel to capture a lead at a cost you have determined is profitable to your organization. Once a model is developed, however, leveraging those results is much easier in comparison and can be a real game changer for your business when executed correctly.