SALES
As a business owner in the B2C space, you already know the POWER of running sales to make your cash register ring.
And because of this, you may have asked yourself:
How can I keep running these sales all year long, while still maintaining the same or greater profitability with each subsequent one?
Recent research from the National Retail Federation not only explains how, but also how much you are missing out by not doing it.
This research shows that an online shop's profitability rises almost three fold when a simple 5 percent discount is offered ongoing for both new AND existing customers on a continual basis.
This study reveals that:
Not only do market participants who have access to these discounts buy up to 3x more often from the vendors who offer them, but these same participants also spend up to 3x more when they DO purchase.
Not only that, but:
With 80 percent of these consumers surveyed under an annual income of $71,000 preferring to purchase exclusively when a discount is offered, and with the average annual household income clocking in at $51,000 in 2016, you can see how you no longer have to wonder if running ongoing sales really do work.
So how did the companies in this study do their sales, so you can repeat their successes?
Most retailers online (not just the ones featured in this study) usually offer their discounts to their customers through intermediaries called affiliates, which then offer those discounts to their customers either through:
Deal Aggregation Sites
People Visit the SlickDeals Site to Find a Discount on What They Are Going to Buy
Then You Simply Click the Link to Buy, Usually on Amazon or eBay
Coupon Sites
Like Deal Sites, Visitors Usually Already Know What They Want When They Visit
But Instead of Direct Linking to a Scraped Listing, You Copy a Discount Code First
Review Blogs
Bloggers Usually Make Their Money Offering Discounts on Items They Mention / Review
They Typically Bury the Discounts in the Form of Trackable Affiliate Links
These affiliates add value by positioning discounts for those who are actively seeking them out, nothing more …
User Starts Their Search on Google to Find Their "Discount" Before Buying
Or in Other Cases, They Look for a Discount Indirectly Through Last-Minute "Review" Searches
Sometimes There Is Value Presented Through Blog Reviews, But in Many Cases, "Not Much"
How and WHY You Can Do Better Than This
While this affiliate strategy does definitely work to increase eCommerce sales revenue on its own, I can state from personal experience that with the amount of money you would spend to have affiliates get your discount offers out there, you could instead spend this same money on a much more substantial PPC campaign with the same discount offered proactively and exclusively to your previous site visitors instead of simply to everyone who might want them, allowing you much better control over your discount's message and tone, as well as much greater reach and effectiveness, thereby getting you MUCH MORE PROFIT vs. affiliates alone through and by maximizing every available opportunity you have to market a discount to your captive audience, as well as at the same time, eliminating the opportunities that won't pay a return where your discount would show.
By my own test results, you can actually see below just how much more you do not want to miss out on this PPC strategy:
Example Where We Target a User Looking for Their Deal Aggregate or Voucher Site on Our Own Accord
Example Where We Create Our Own Review Sites and Control the Bottom of the Funnel Sales This Way as Well
Our Review Instead in This Case Has a Clearer Call to Action Than Our Typical Review Blogger That Uses a Contextual Link / Mention
By dominating most discount and review-related terms in the search engines, we control the bottom of the funnel, maximizing conversion of top-of-funnel marketing activities.
Here are the results of the sales revenue obtained running our own discount ads (like those shown above) to give you an idea of the potential of this strategy.
This article teaches you how to run these kinds of remarketing ads to achieve the same predictable results I have achieved as listed above.
If you want help 'kicking the affiliates out' and start making even more money by doing what they do for yourself, you can ask how easily it can be done in you're own case here
This site abandonment discount strategy, when done right, is particularly effective when you thoroughly research how your customers behave, as I point out here.
The more you know how your intended customer behaves online before you start planning your campaign, the better you will be able to take advantage of each opportunity you have of making a sale with your given discount.
Lazy marketers need not apply.
By running a remarketing campaign with a discount, you are combining the reach of a general sale
Most People Run Sales Lazily on Their eCommerce Site's Homepage or Mention It Sitewide
with the motivation of something the consumer thinks they FOUND on their own, taking something that was already good and making it MUCH better.
To gain the type of results demonstrated above, you will want to instead only display these offers to people after they have visited your site determining how your customer behaves to properly time & structure your discount offer.
First, study the patterns of how your customers are already behaving by looking at your past sales attribution reports:
Attribution Reports in Google AdWords Show You How Far Out People Go From Their First Click to Purchase
For example:
If you find your average customers' purchase sales cycle is 30 days, for instance, then you will typically introduce your sale with a similar time frame as indicated below:
For Best Results, Segment Out Your Discount Banners for Each Primary Item You Sell (Highly Recommended)
And Put a Time Limit on How Long It Can Show for Any One Site Visitor Other Purchase Window Considerations
Because so many (76 percent in America) of your customers are living paycheck to paycheck, many who have initially visited your site had no intention at all of buying from you at the time they visited your site.
While they were definitely interested in buying from you later on, they were waiting to get paid either on the 1st and the 15th of every month, as you should clearly see if you just look at your past sales reports.
For Items That Are Not Marketed Exclusively to the Top 20 Percent of Earners, You Will Often Find Most of Your Sales Come at the 1st
For this, I recommend your cookie window should be at least three weeks long, no matter how low priced the item you are marketing is, normally running it from the 15th to the end of the month for everyone who has waited at least a day since visiting the site.
For Best Results, Restrict the Discount Ads to Be Shown at Least One Day Since the Initial Site Visit to Look Sporadic 
Why not just show your discount offer to every person who has seen your site?
By showing your ad to your prospects at times that are not relevant, your audience will begin to fatigue, and more importantly, it still has to seem random and scarce to work correctly.
Example of Results We Got With No Delay on the Ads or Optimization of Ad Scheduling
Alternate Results of Restricting Time Schedule of Discount to Times More Statistically Significant of a Purchase
For these reasons, the timing of your offer really is just as important as the offer itself.
Deciding on the Amount to Discount
I usually start with offering a 15 percent discount when testing my discount campaign, as this usually generates the type of motivation needed to get both a high probability of click AND higher purchase rate both initially and in the near future on repeat purchases of that same item.
Here is a basic chart that actually explains how much you can discount the items you want to promote while still maintaining your acceptable gross margins.
As you can see, at a 15 percent discount, you only need to increase sales volume by 60 percent to make up for the reduction in gross revenue and break even, which still leaves you with a 200 percent Lifetime ROI Increase from each customer acquired, stemming from the 300 percent increase in total LTV gross revenue you get by offering an ongoing, well-timed discount offer to each prospect that visits your online store.
Example Showing How Much You Have to Increase Your Sales to Make Up for Product Discounting
Source: gicoaches.com
But this is just a guideline, however; every offer will perform better at a different rate of discount, which namely depends on the competitiveness of your market and other competitors' / vendors' discount offers.
For this, I recommend that you test a few different discount amounts and then chart it out before you make a long-term decision about how much to discount in your remarketing campaign.
You can use a LTV tracking tool like this to help you make your decision on how much exactly to discount.
The Glew Lifetime Value Tracking Tool Can Show You How Tweaking Your Discount Campaigns Directly Affects Gross Revenue
As a rule of thumb, you can discount less the closer to purchase the user was: i.e., if they have actually reached your cart or pricing page of your site, I would only recommend offering a 5 percent discount in this case, as it is all that will be needed here vs. a 10 percent discount for a product page level visitor, for example.
The Closer the Purchaser Gets to Making a Commitment, The Less You Need to Discount to Get the Desired Purchase Action as Per Our Experiments
Can't Afford to Offer Any Discount at All?
Whether your margins are just too slim or you have minimum retail pricing schemes to adhere to, you may alternatively offer a free giveaway , which can also work very well.
If You Cannot Afford or Are Disallowed to Discount Your Items, Consider Giving Freebies With Your Orders
Another way you can optimize your discount campaign if you have particularly thin margins is to add a filter to your remarketing audience in Google Analytics for previous total transaction revenue within the Analytics menu, as I display here, to ensure greater margins on the backend: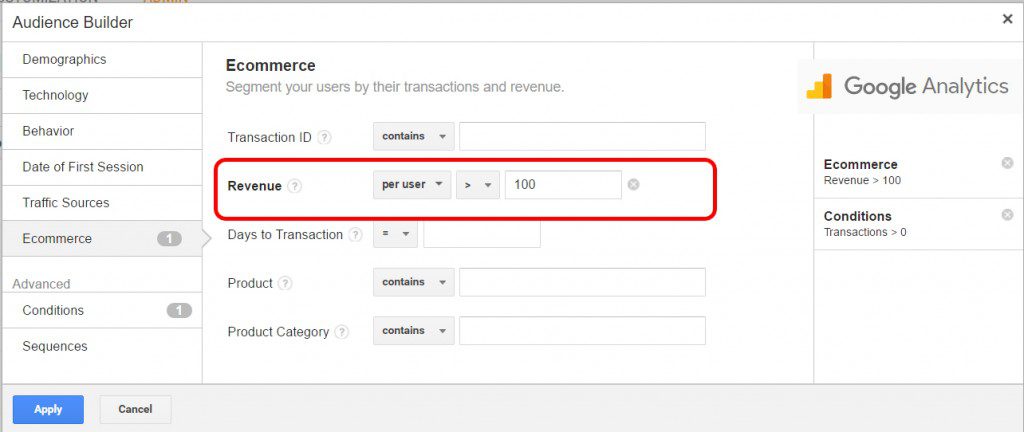 Or Alternatively, Simply Restrict Discounts to Those Who Are Exclusively More Likely to Spend More With Your Company
By restricting and segmenting your audience by how much they have spent with you to discount them, you will see a great difference in ROI coming up with a sufficient reason for that sale so it can be run continuously.
You will need to think of a good reason for the sale you are offering that will make sense to the customer you intend on attracting for it to keep running continuously unattended.
Not only does your discount offer have to surprise your intended customer to work correctly, but as stated before, it also has to seem completely natural as to why it was even being offered in the first place in order to work the way it is designed to, so keep this in mind when you decide on a reason for your discount/sale.
Your Options for a Sale Excuse:
One system I usually use to achieve this is a good ol' "end of the month" sale.
I Most Often Use "End of Month" Sales to Get People Back to My Site
My Landing Page I Send Them Always Has the Offer Spelled Out Very Well for Them
"Liquidation Sale"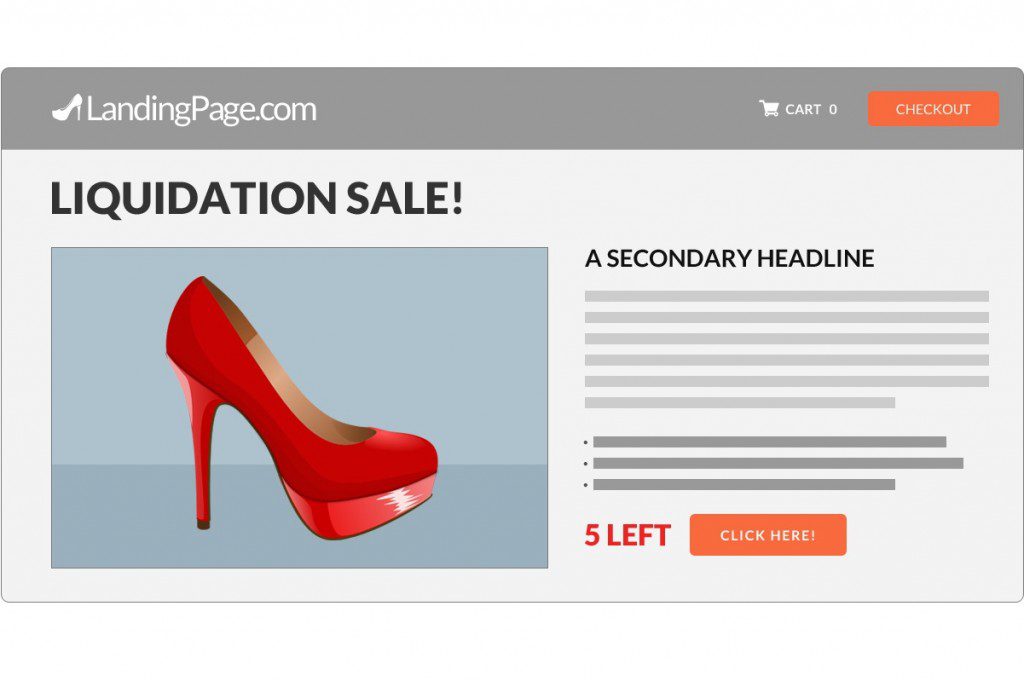 A Liquidation Sale With Built-In Scarcity Is Another Good Way to Execute a Discount Offer to Your Previous Site Audience Or Even Something Really Creative
"Lefties Sale"
Making Something Up That Sounds Completely Random Will Get a Lot of Attention
All of these work very well.
Dedicated Discount Landing Page Setup
Next, when you have your offer in mind, you will make up the landing page to put that discount offer on.
As a standard rule of thumb, a countdown timer will go on this landing page to convert your deal seekers at the highest rate possible.
Adding a Countdown Timer is Something You Should by Default to Spike your Results
You can use discount codes to do this with your ad campaign, but by my research, a dedicated sales landing page works far better (for reasons I will get into later in this article), having to do with people coming back later to take advantage of that after the offer expires.
Never Use Regular Ol' Discount Codes vs. Dedicated Landing Pages
Once someone takes advantage of your sale offer, they can be taken off your discount marketing list by setting up an additional audience for this and applying it as a negative in whatever PPC campaign you are running, so as to prevent people from using it again and again on subsequent purchases unless it's actually needed to close future sales.
Here Is How to Exclude Previous Site Purchasers If Needed (Not Typical)
However, if you do want future sales, like I usually do, you can instead put customers back on your sale remarketing list each and every time they leave your site by default, even if they don't buy from you the first time they visit, as every subsequent visit they make on your site is directly correlated with a higher likelihood of completing a purchase.
Segment Your Visitors by How Many Times They Have Actually Revisited Your Site for Superior Control on Bidding and Results (ROI)
A Typical Example of How to Stagger Your Bids on a Discount Campaign Based Upon Engagement
The only real time you will not want to keep running the discount for your previous customers is if you can't actually afford to discount every purchase due to thin margins, as you will make the most money by keep running it continuously, as the Forester study above also mentioned.
Like Tracking Individual Purchase Revenue, Tracking Engagement Is a Proven Way to Optimize Your Ads
Takeaway: Don't delay in showing the discount again if someone visits your discount lander and leaves without purchasing. There is also no need for a time delay after the first visit occurs!
Automating It
Before I had discovered and started using automated rules inside of AdWords, I would go in at the 20th of every month and push out my sales each month manually.
I Used to Manually Pause and Reactivate My Ads With Discounts at Certain Times of the Month to Comply With the "End of Month" Sale
Now, however, I simply program an automated rule in AdWords, which turns on my discount ads when I need them to be and then shuts down my normal product remarketing ads at the same time, preventing a double serving of ads.
Now I Use AdWords's Built-in Automation Rules to Do the Same Thing  Automatically
The automation achieved here allows me to set up my discount remarketing campaign once and mostly never have to look at it again.
Automating a Countdown Sale in Search to Also Grab Those Actively Seeking Discounts
With AdWords, you can also run countdown timers in your ads as well, which I also highly recommend only being shown to previous site visitors in Google Search by setting up a search retargeting audience (RSLA) there.
I Love Using Countdown Timers in My Ads That Match the Countdown Timer on My Landing Pages, With Great Results Doing It This Way
As You Can See, The Countdown Ad Feature Displays the "Time Left of the Sale" for You Automatically
Granted, while you cannot actually automate how an ad handles/resets its timer each month as you would wish them to (by far most effective way to do it), you can alternatively set up unique campaigns for each subsequent month you want these campaigns to run in sequence and simply deactivate the old months' ads after each month in question passes, expiring them one after another, as shown here:
To Keep Your Ads Discounts Running Constantly, Simply Enable New Ads Every Month With a Time Trigger
And Deactivate Your Previous Month's "Sale Ad" at the Beginning of Each New Month
In conjunction with this strategy, you can also use a unique landing page for each month, which references the active month in question and will further increase your conversion rates.
Using a Landing Page With the Month or "Time" of Sale Will Easily Get You 25-50 Percent Better Results
You could also develop your own script that rotates the name of the month listed on your landing page, as I have done this before and it is also highly recommended and can be done.
So to Execute This Easily, I Highly Recommend a Date or "Time" Script to Do It
As You Can See When I Did This, the End and BEGINNING of the Month Is Where a Majority of My Sales Came In Letting Offers Expire
One of my secrets about running one of these types of sale campaigns with a timed offer like this is that an equal amount of your customers will come in after the sale to take advantage of it as before, and it is actually funny when you consider what they are doing here, trying to take advantage of a loophole.
When the Visitor Sees "All Zeroes" On The Countdown, They Just Panic and Buy Now
For this, I will always let my sale page link exist no matter how late my prospects are to the game, as people will often bookmark the page when they discover your discount ad and buy later, sometimes without realizing the offer expired before they visit again, trying to buy before that discount link then disappears on them.
Number of Sales That Still Go Through After the Actual Offer Expires
Here is a pretty cool tool I like that you can also use on your site to automate the reset of the countdown timer on your landing page, one of which I recommend is listed below:
                        This Is the Countdown Time Style I Have Found Works Best   
 Results of Using a Countdown Timer On Your Discount Offer Landing Pages
If you have read my other PPC tutorials, you will know that I always advocate taking what works on AdWords and moving that on over to other networks, such as Facebook, to increase reach and vice versa with similar success. In this case, it is also no different.
People enjoy seeing a somewhat exclusive end-of-month sales offer on their Facebook newsfeeds just as much as they like finding those offers on a banner on their favorite news site, as you can see in the results below:
Once You Have a Working Campaign on AdWords, Move It Over to Facebook for Even Better Results
The strategies laid out for you in this article has always worked to increase my sales and has literally never failed me. You simply can't go wrong with remarketing discount offers like this, and I highly recommend them to anyone with a product to sell.